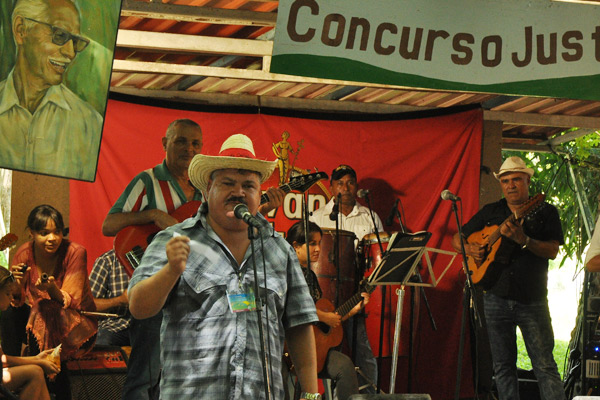 The winners of the Justo Vega National Improvisation Contest, one of the most important competitions of the Cucalambeana Fiesta, were announced in the Palmas y Cañas television program, broadcast Sunday night, whose highest award fell for the second consecutive time at Geordanis Romaguera Montes de Oca, from Matanzas.
Las Tunas, Cuba.- Héctor Luis Alonso, also from that province, deserved the second place, while Jusbiel León, from Cienfuegos, obtained the third prize. With four points of difference between the first two places and only one between the second and the third, the tough competition left the flavor of knowledge and passion for the décima, Cuba's national stanza.
On Wednesday, in the Mediodía en TV, of the national programming, the Popularity Prize will be announced, based on the votes of the public. This television space, in the week that ended, broadcasted the improvisations of the protagonists who aspired to conquer the scepter.
On this occasion, there were 10 contestants in the "Justo Vega", representatives of the provinces of Pinar del Río, Mayabeque, Matanzas and Cienfuegos. According to Luis Paz (Papillo), director of the Iberoamerican Center for the Décima and the Improvised Verse (CIDVI), the selection took into account their participation in national contests and others of great significance. The aspirants to the prize had to overcome pies forzados and phrases that tested their mastery of the stanza.
Papillo, exclusively for 26Digital, expressed: "The contest was carried out as we expected, with the required quality, although improvising with human warmth will never be the same as in solitude, but it is something new that turned out to be a beautiful experience." The renowned poet also urged repeating this practice of dissemination on national television and social media, in future editions, something positive that we get out in front of the COVID-19.
In the context of the 25th birthday of the improvisation contest, the jury was made up of Juan Carlos García, José Enrique Paz Esquivel, Orismai Hernández, Armando López Rondón and Sindi Manuel Torres (all improvisers, connoisseurs of the genre and with experience in similar contests), who, as Luis Paz said, had the possibility to see improvisations and listen to the décimas over and over again thanks to the goodness of new technologies.
Geordanis will be awarded a trophy by the El Cucalambé Iberoamerican Center of the Décima, which consists of a work by the plastic artist Sacramento José Acebo. He and the other laureates will receive the commemorative medal for 20 years of the founding of CIDVI, which is celebrated on the current calendar.
This way concluded one of the most prestigious events for improvisers in the country in the context of the 53rd edition of the Cucalambeana Fiesta, considered by Jesús Orta Ruiz (Indio Naborí) as the Supreme Party of the Cuban Peasantry.