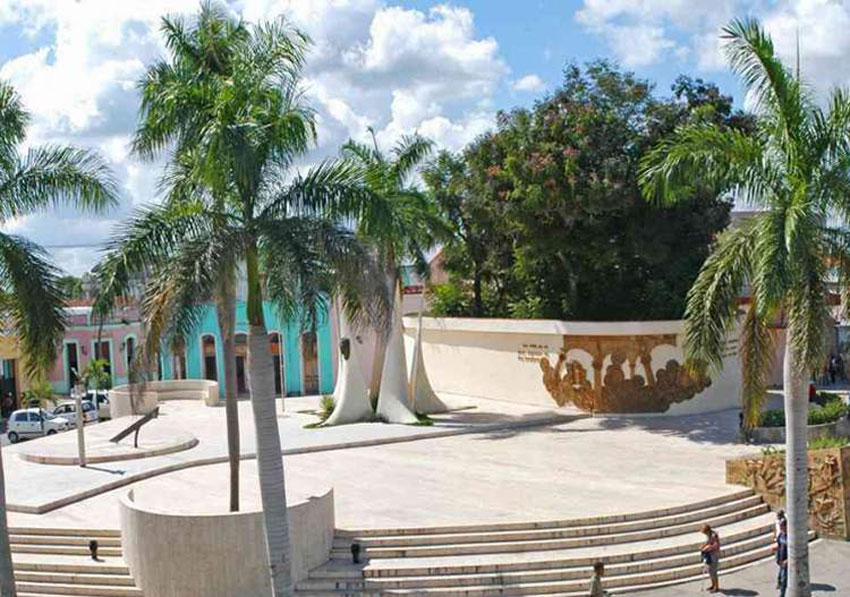 This March 25 marks the 25th anniversary of the emblematic Plaza Martiana; a jewel of architecture and science that distinguishes Las Tunas and has been the protagonist in 26Digital in different moments.
Las Tunas, Cuba.- The celebration, which in times of COVID-19 cannot be crowded, beats in the pride of each person from Las Tunas for having it, knowing it, retracing it freely while touring this small region.
The encouragement of the Commander of the Revolution Juan Almeida Bosque was from the beginning of the construction work, in the year of the centenary of the death of the National Hero. The ardor of glories of Cuban national culture like Rita Longa and Martha Arjona is part of its genesis; and the constant dedication of the architect Domingo Alás, its "father," still gives it strength and he bets not to let its splendor die.
It is unique of its kind and, at the same time, haughty, elegant and simple. That is why the people of Las Tunas sit casually on their benches and stairs. The same to talk, to take a photo or snoop on cell phones how the world wakes up. Unforgettable commemorations have been held in it, among which, undoubtedly, the mournful December 2, 2016, when 90 precious Cuban flags in young hands, from their steps, said goodbye to Fidel Castro as his funeral procession passed. That day, like few others, inflamed its worth.
It knows kisses in love, violent breaks, social indiscipline and of friends who, lost in the corners, cite it as a meeting point: "Yes, you don't move. Wait for me, I will arrive there, at Plaza Martiana." An important part of the daily life of many locals revolves around it. It is a pity that its directive continues to be of municipal subordination, because such circumstance limits budgets and needs constant attention, like all good works.
These are not hours of colossal acts and events, and even charm has that for the first 25 of the Plaza Martiana. The best tribute is in the respect and admiration of each one of us. It, in some way, represents in Las Tunas the lineage of the man of The Golden Age, an exceptional human being who just on March 25, 100 years before the inauguration of this site, signed the Montecristi Manifesto and sailed heading to Cuba, to fight for its freedom.