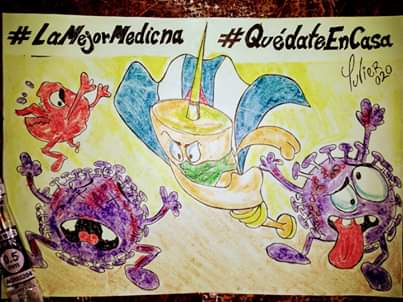 Among the cartoonists from the Balcony of Eastern Cuba that give life to works related to the COVID-19 are the art instructor Yuslier Lozada, from the municipality of Jobabo, and the well-known Antonio Medina (ANTOMS) and María Sao, members of the Circle of Cartoonists and Graphic Designers of the Union of Cuban Journalists in the province, who live in Las Tunas city.
Las Tunas, Cuba.- They exhort from humor to prevention, recognize the work of Cuban doctors and strip away the essence of a disease that worries and occupies a good part of the world.
"The artist's objective is to create and, now that we remain at home, it is logical that the inspiration wakes up. In my case, I have created about thirty works linked to the new coronavirus. To do this, I have documented myself, read about previous pandemics, and taken cultural and historical elements that I then take to the cardboard to support the message I want to convey", said ANTOMS.
The Little Prince, Noah's Ark, social networks and human anatomy, for example, are all elements used by this creator to achieve his purpose.
He, who is included in the book History of Cartoons in Cuba and has won awards in important contests such as the National Saloon of Graphic Humor "Tintaenpié" and the Juan David Personal Cartoon Contest, adds: "Today we find other ways to create and meet in virtual spaces because it is a time to support each other more and always emphasize prevention. I am happy to contribute works that reflect, for example, a scarecrow with three masks, because it is better to exaggerate than to neglect".
Meanwhile, María, his wife and colleague, continues with the sheep, iconic characters in his career, touching our heartstrings. "I have about 10 pieces on the subject that concerns us. I'm especially inspired by family dynamics, by those children who can't leave the house to play, by grandparents and similar artists".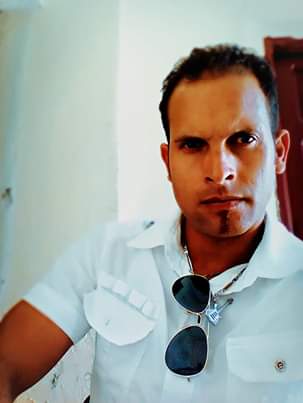 She always tries to share an art piece made by the partner or her authorship around 9:00 pm. "This is also a way to applaud the artists for their honorable work. In addition, we live in society and today our mission is to bring a message of hope to the people so that they can have the best time possible", she said. María also takes advantage of the time to work on her master's thesis on graphic humor in Las Tunas (2000-2019).
For his part, Yuslier, from the southern municipality of Jobabo, works with the dream of holding an exhibition of caricatures at the end of the quarantine. "It will be called Detrás del temor (Behind Fear), because we, creators must stand firm and enlighten others with our work. Social networks help a lot in this if they are used properly. That's what I've been trying to do".
This member of the José Martí art instructors' brigade (in the specialty of Plastic Arts) also during the necessary social distancing performs pyrography in yagua (a kind of palm leaf) and other media, besides working on his musical lyrics, rehearsing them with the guitar and designing upcoming cultural initiatives.
They testify that art does not stop and, from serious love and humor, it is always possible to sow teachings, make us laugh and reflect on our behavior as human beings because, if something positive can be taken out of this context is that you can grow and be better, taking advantage of time.