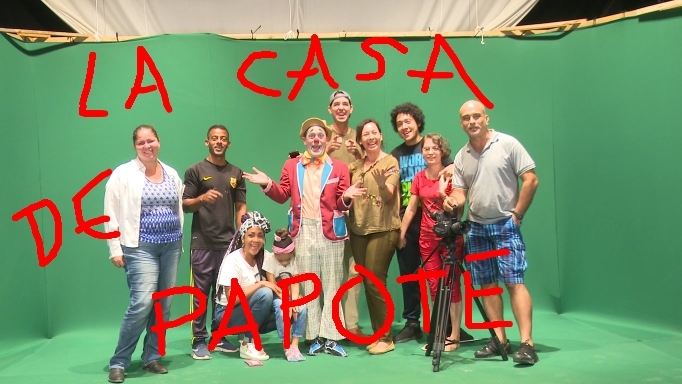 The "red noses" will surprise us again. A new dream, born thanks to the intention of the National Council of Performing Arts (CNAE), will bring us closer to the clown universe this summer through a novel technique for television on the Balcony Eastern Cuba: the combination of real characters in an animated world, with objects that are also part of the fictional environment.
Las Tunas, Cuba.- Papote's House is the name of that television proposal that, although it does not yet have an exact date for its broadcasting, according to its creator, it will see the light at this summer season, both on national television and on the territorial channel.
"It is a project that has us in love. The CNAE commissioned us to create audiovisual material that would present the work of Teatro Tuyo. In essence, it is a house tailored to Papote's imagination and children's own fantasy. In this space, he must face different vicissitudes and sometimes interact with other characters," said Ernesto Parra, actor and screenwriter.
The Teatro Tuyo's leader affirmed that the seven chapters (five minutes long and a different theme each) will maintain the aesthetics of his theatrical company of entertaining the public, moving, provoking reflections and sowing teachings.
In that brotherhood we will find other clowns, because we will also be delighted by Aixa Prowll, as a dance teacher, in the role of Chocolina; and Alejandro Batista, who plays the sad clown and the percussion teacher.
According to Parra, several of the chapters are inspired by plays or scenes from the Teatro Tuyo repertoire, adapted to the time and genre. "It is a similarity to what human beings can find of incalculable value: a home. And, incidentally, the messages that our theater group has tried to transmit for 21 years of existence are present," he added.
Dalgis Román directs the proposal. She is very happy. And not only because it is her second chance to visit the work of this clown troupe as a director, but also because it is the first work of the Salamandra Audiovisuales team, of which she is a part thanks to the emergence of the Independent Audiovisual and Cinematographic Creator Registry. About the protagonists who make this dream come true, she commented: "One of the cameramen is my husband Carlos Enrique Díaz; my son, Camilo Soto, is the editor; and we have recruited other talented professionals such as Raúl Verdecie, the director of photography. Yanelis Escamuchero is the presenter, and has been in charge of the designs and backgrounds; the original music is by Ridel Meriño...
"I would like to thank TunasVisión for having trained us and all those who have supported us from the beginning, who are many to mention each one. It has been very complex from the point of view of editing and even filming. Sometimes filming has been extended until 2:00 am and we have done everything with our own resources. But we are enjoying a lot; it has been worth it."
Papote's House is currently in the process of editing, mixing and related tasks, but because of its references, it already promises and encourages us to share with the family. And it is that, although the pandemic has not yet left the country, we need that cultural encouragement to go ahead and discover new colors in life.