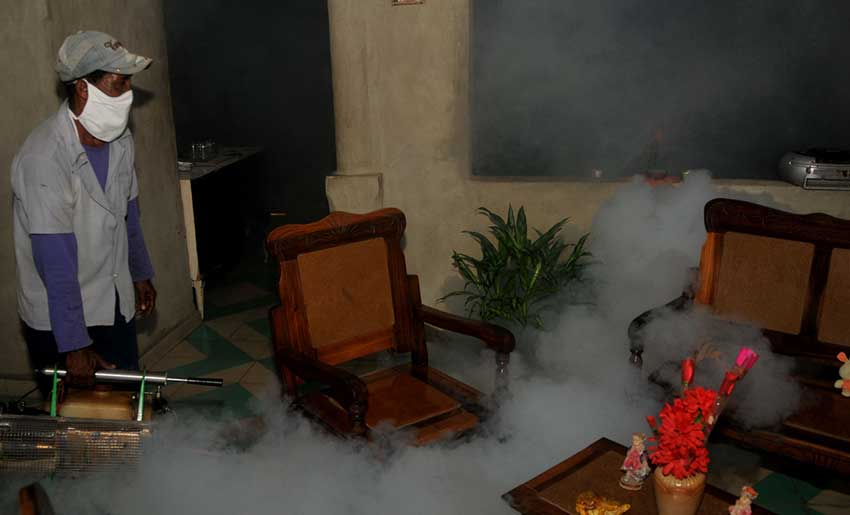 More than 41 thousand premises from the four health areas in the provincial capital will receive intensive adults' treatment against Aedes aegypti, as part of the efforts of health and government authorities to prevent the transmission of arbovirus.
Las Tunas, Cuba.- Dr. Diego Julián Álvarez Dopazo, director of the Provincial Center for Hygiene, Epidemiology and Microbiology (CPHEM), referred to 26Digital that in addition to fumigation, focal control actions and others related to vector control are carried out.
At this stage, he pointed out, environmental hazards increase due to extreme heat and rainfall, favoring the proliferation of the mosquito, a transmitter of diseases such as dengue.
"According to the resources available in the country," he explained, "it was decided to prioritize the provincial capitals that have the highest population density and historically report a higher number of cases. The premises will be fumigated once a week for a month, taking into account the vector reproduction cycle."
Álvarez Dopazo clarified that not all places in the municipality of Las Tunas are included in this intensive exercise. "The areas with the highest entomological and epidemiological risks of spreading the disease were identified by a team of experts."
Currently, the province does not have arboviral transmission, but it does have high rates of Aedes infestation, mainly in the aforementioned health areas and in the "Romárico Oro" area, in Puerto Padre. This, of course, raises the alarm and the population must join this offensive for life.
"Now that the inhabitants remain at home as an essential measure to prevent the COVID-19, the perception of risk regarding arbovirus should be increased. There are more people inside the house that could be bitten by the mosquito, but if everyone contributes to the family autofocal, the risk would become a fortress."
The head of the CPHEM calls to promote self-responsibility as an indispensable value in the offensive against the Aedes aegypti, an enemy that takes advantage of the slightest carelessness to attack; it is up to all to keep it at bay.