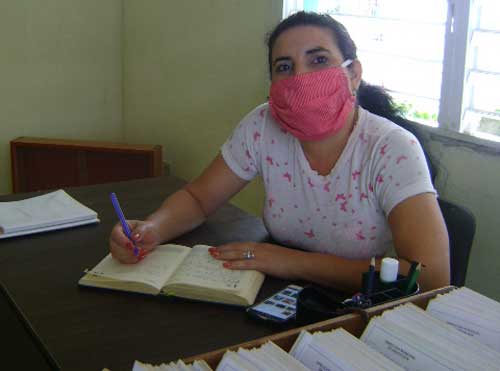 Today, the Tres Casitas (Three Little Houses) Childcare Center does not exhibit the usual animation. There are no infants sobbing for their mother and no romping around the yard. Nor is there any hustle and bustle in the kitchen or "aunts" getting cots ready for their midday nap. However, in a different way, the work environment is in the air.
Las Tunas, Cuba.- "Our institution is still open to provide all the services we have always offered, but mothers prefer to have their children at home, as advised by the health authorities due to the threat of the COVID-19," says Yumilka Fuentes, its director. Now we are spending our time on other tasks so that when the situation is back to normal, we will have our work cut out.
The tasks are varied and correspond to the profile of each person. Thus, some teachers and teaching assistants work remotely in their homes, where they are dedicated to making teaching aids and didactic objects capable of improving the quality of the educational teaching process.
Non-teaching staff also have tasks to keep them busy, such as sewing the worn linings of the cots and repairing the tubes, reinforcing the handles of the towels, repairing defective chairs and tables, welding what is needed, painting the walls, maintaining the kitchen garden, replanting gardens...
"The teachers who stay at the center repair damaged books, prepare methodologically and advise families by telephone about the objectives that their children should overcome during this stage, according to their years of life," adds Yumilka. "Now parents have the opportunity to help. They have to play with them, teach them how to throw and even guide them in morning gymnastics."
She assures that, in the current conditions of social isolation, the family can reinforce the teaching of the mother tongue and its correct use, musical education, knowledge of the world of objects, train their children in plastic education in tasks such as cutting, tearing and tracing. Parents and children should take advantage of the opportunity to play, paint and enjoy themselves together. This unifies and teaches.
"It is important that the life schedule of the Childcare Center is respected as much as possible at home," says the young director. Baths and meals should be taken on time, as well as naps and night's sleep. This is so that when they return to the circle, readjustment will not be too difficult. In addition, the whole family must be careful that the child does not lose his formal and postural habits."
The work of the childcare centers of Las Tunas has not been diminished by the COVID-19. Their teachers, pedagogical assistants and workers, in general, are committed to making this context a stimulus and preparation for future assignments.