I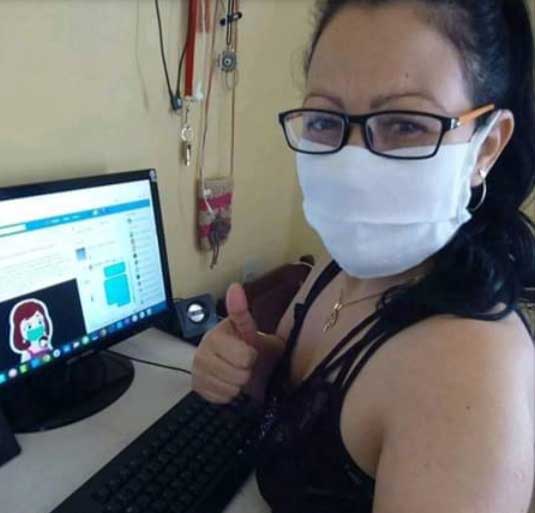 n normal times, we occasionally share minutes of conversation. She always seemed to be affable and smiling, but there was never enough time to learn more about this woman with so much experience to pass on.
Las Tunas, Cuba.- The opportunity arose recently through Facebook. She is Dayalé Torres Diéguez, executive editor of the Cuban Journal of Digital Transformation of the Cuban Informatics Union (UIC) and a specialist in the organization's Vice Presidency of Knowledge Management in the country.
She also works as a part-time professor at the University of Las Tunas, where she teaches Universal History with a specialty in Marxism-Leninism and History and has a daughter in the sixth grade named Laura, who inspires her to excel and face each day with optimism.
Today, teleworking opens the doors to her performance and through the Open Journal Systems (open source software for the administration of journals) she edits scientific publications and manages projects that speak of her determination to build a better society.
"The UIC has several projects and there is one of which I am a leader. It is aimed at the elimination of the gender digital divide in hard to reach communities. That one is called Gender Equality in ICT on Wheels and has a provincial scope, although the pilot experience is based in the Blanca Rosa community. This topic is one of the priorities of our work.
"We are currently working on another project of greater impact, which includes collaboration with the European Union and we are very happy that Las Tunas is one of the selected municipalities. It is called Innovation Labs to promote digital transformation in the culture sector. And, although we are in the processing of documents, it is already approved and that is an achievement.
"In this case, we have linked to students from the University. One of the contributions that this international initiative is expected to have will be in terms of city tourism and virtual reality technology, which is evident, for example, putting marks (QR codes) with all the historical or cultural information of the places or monuments," she said.
She is an example of a working mother who, aware of her role in society, advises raising the perception of risk without falling into panic. "We have to disinfect everything we touch, I am worried about people who take bread with their hands when they buy it and it would be very healthy to carry a knob with sodium hypochlorite solution and disinfect their hands before touching those foods."
These are the recommendations of Dayalé, who makes the quarantine space for self-improvement and education of her daughter on important issues such as the appropriate use of social networks by the underage. Women like her build the present and ensure the future, the same with domestic tasks, mother's advice or a lot of tasks from different sectors because, as she said: Teleworking does not mean fewer working.