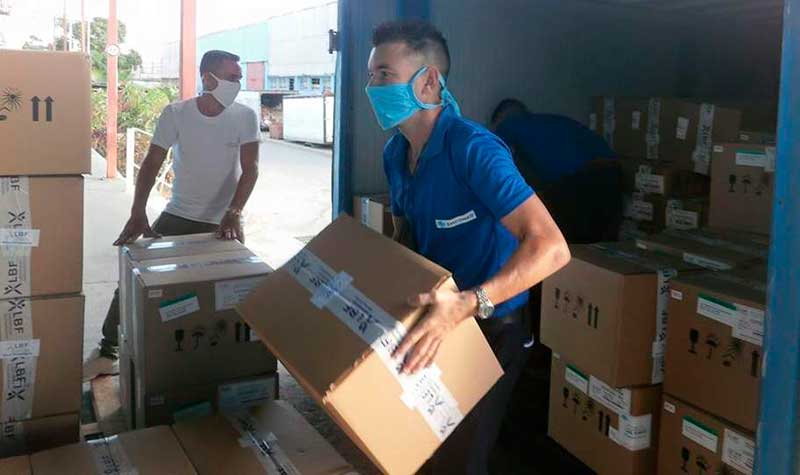 Having achieved the distribution of all medications during the cycles established by the Health System in institutions and isolation centers arranged as a result of the COVID-19 pandemic lies the satisfaction of the accomplished duty by the EMCOMED group in Las Tunas.
The wholesale drug business unit, belonging to the Drug Marketing Company (EMCOMED) of the BioCubaFarma group, was involved in confronting the SARS-CoV-2 coronavirus from the outset, without neglecting its other functions or the maximum protection of carriers and distributors.
Idania Galano Milhet, director of the entity, told the Cuban News Agency that during the most complex months of the epidemiological contingency due to the COVID-19, all the functions of the company were fulfilled and in many occasions with 50 percent of the 145 workers that make up the unit.
Reach up to the 106 institutions that make up the province's pharmacy network, the five hospitals, the eight municipal Health Departments and other institutions, such as blood banks and the Provincial Hygiene Center, and manage to deliver the medications there in the scheduled time, it was a titanic task that EMCOMED Las Tunas knew how to carry out, she pointed out.
Galano Milet explained that an emergency service was maintained 24 hours a day in constant communication with the Health system since EMCOMED attended to all the shortcomings and low coverage of the province and created a reserve of 30 prioritized medicines that the country decided to use at this stage.
Awarded as National Vanguard Collective, EMCOMED Las Tunas will receive on August 6 the flag that confirms this condition, in addition to the recent recognition of the Federation of Cuban Workers (CTC) for being one of the eight outstanding institutions in the province in the confrontation with the COVID-19.
The encouragement of six young people with the Forjadores del Futuro Seal and the award of Merit to the Workforce Achievement to a group of workers are among the most recent recognitions to the entity.