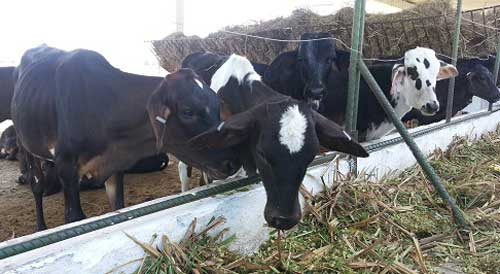 With a sustained work in the implementation of actions in favor of production development, the subsidiary of the Cuban Association of Animal Production (ACPA) in this province, facing the new post-COVID-19 scenario, undertakes a significant program that allows strengthening agricultural development in the state, cooperative and peasant sectors from science.
Las Tunas, Cuba.- By means of the correct use of technical and scientific resources, the association supports the Agriculture System in this territory and proposes mechanisms that have the objective of preserving genetic resources used to the increased quality reproduction of cattle and other species, in addition to promoting relationships of national and international collaboration.
In dialogue with 26Digital, the master Yanelys Garcés Franco, president of ACPA in the province, reported that within the concrete actions to contribute to production development from science, the Association generalizes more effective technologies with the purpose of achieving adequate management in the rabbit breeding and aquaculture in this territory.
In another order, she also explained, that due to the imprint that the extension of laudable alternatives for the production of animal food has at the moment, initiatives are directed towards the search for species that need resources that are easily accessible and adapt to inclement weather, fundamentally, for the feeding of goats and rams. This also influence the foment of goats on platforms, with the aim of guaranteeing a higher quality and safety in the production of cheese and milk.
Outstanding attention is also given to the promotion of the breeding of semi-rustic birds in family patios, since "the use of elements typical of agroecology is promoted through the manufacture of food concentrates from foliage and legume seeds existing in the locality."
The perspectives also contribute to the promotion of the dark-coated pig and regarding the adequate use of natural pastures and protein plants, according to the conditions of the province. Garcés Franco reported that "together with the Experimental Station of Pastures and Forages of the territory, several seeds are produced to support the campaign sowing.
In this strategy that Cuban Association of Animal Production carries out to accompany agriculture in achieving more food production, training is not left aside; it is important that producers receive this knowledge in order to incorporate good practices that are friendly to the environment, "above all, in the defense of the biodiversity associated with productive diversification in all agricultural scenarios," stated the official.
There is still a lot to do on science and agriculture - highlights Yanelys -; however, the conscience and the integrated work of all the sectors that influence it can contribute more than enough to the achievement of these objectives to promote cheaper solutions from the local resources, and thus promote an effective increase in food production," she concluded.