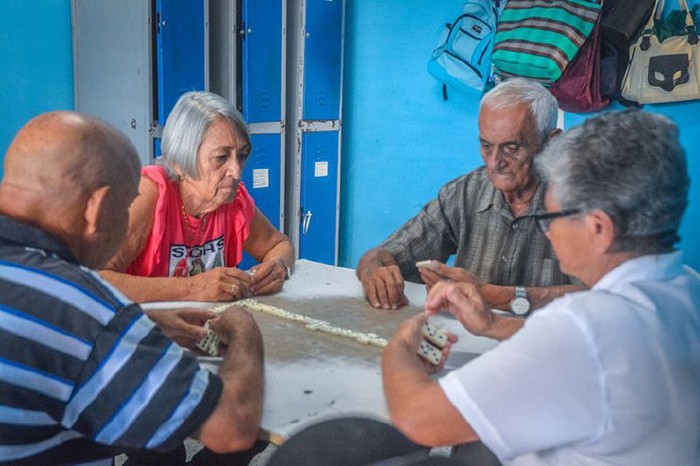 Offering multidisciplinary care that transcends the medical scheme and impacts the quality of life of older adults is a priority for Las Tunas, with nearly 22 percent of its population over 60 years of age.
Las Tunas, Cuba.- This figure represents that more than 115 thousand people are in this population group; so, the province is the ninth most-aged territory in the country, according to data offered by the National Statistics and Information Office (ONEI, by its Spanish acronym).
Dr. Marisbelis González Rodríguez, head of the Elderly section of the Provincial Health Directorate, told the Cuban News Agency exclusively that Las Tunas has 20 social institutions for the care of the elderly, including 10 grandparents' homes and an equal number of homes for the elderly.
Although all the municipalities have some institution of this type, there is still insufficient capacity, which is why the sector is committed to strengthening community work with multidisciplinary gerontological care teams and the insertion of this sector of the population into the grandparents' circles.
These teams are in operation in primary health care, and a large number of them are qualified with diplomas, and specialized courses, which are combined with the agreements that Health maintains with Culture, Sport, and other institutions such as museums and libraries, said the director.
González Rodríguez also explained that the objective is for grandparents to achieve life indicators that keep them physically and mentally active, to achieve not only an increase in life expectancy in the province, which exceeds 79 years but also healthy aging.
Of special significance in Las Tunas is the Guillermo Tejas home for the elderly in this city, the 300th inaugurated in the country, and the treatment under the modality of care for the disabled makes it a space for physical and mental rehabilitation.
Meanwhile, the Carlos Font Pupo home for the elderly, also in the city of Las Tunas, revitalizes its Council of Elders as a key pillar in the center's decision-making and maintains a program of activities that stimulates and follows up on the personal stories of each of the grandmothers and grandfathers who live there.
Cuba is one of the most aging countries in the region, with more than two million older adults, a reality that demonstrates the need to face both economic and social challenges to provide this sensitive sector with a safe and stable environment, in which the family plays a decisive role, but it is up to the health system to draw up strategies and provide systemic care.