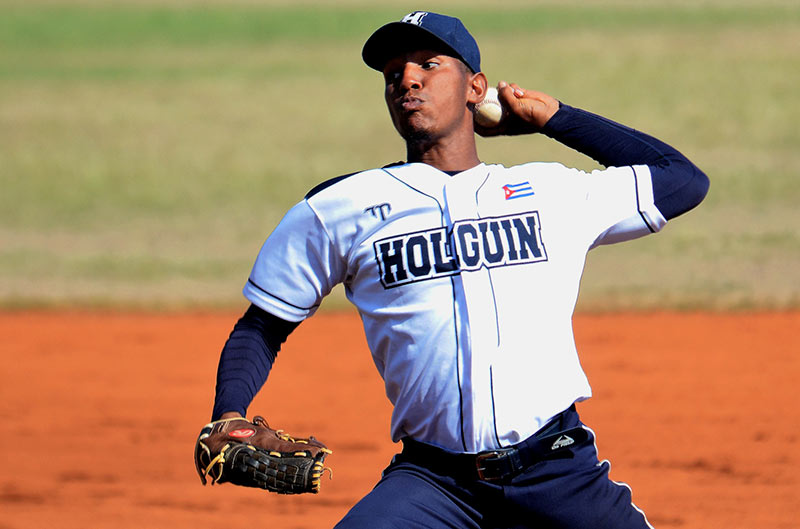 Discomfort in his pitching arm makes it impossible for Luis Alejandro Serpa, from Cienfuegos, to continue in the Leñadores roster (Lumberjacks) for the 2nd Elite League of Cuban Baseball; therefore, the Las Tunas provincial commission announced left-handed Uberleydis Estévez Rodríguez as a replacement.
Las Tunas, Cuba.- Without the statistical support of Serpa, the native from Holguín, with power in his fastball, adds different characteristics to those brought together by Eliánder Bravo, Dariel Góngora, Miguel David Paradelo, and Branlis Rodríguez, the other "wrong-hand" pitchers with the Lumberjacks.
The player of the Cubs accumulated 16 outings as a starter, with a balance of four smiles and seven setbacks, while in his only relief performance, he earned the save. Throughout the past season, Estévez went 63.2 innings, with 41 earned runs allowed - for an ERA of 5.80 -, and rivals hit him for a 300 average.
When the group of athletes concentrated in the "Julio Antonio Mella" undergoes the fourth week of training, of the eight planned, the pitching area is the most affected due to recent international commitments, according to the coach Rodolfo Correa. So, the main maker of green-red arms acknowledged the management of a possible rotation towards the competitive premiere in November.