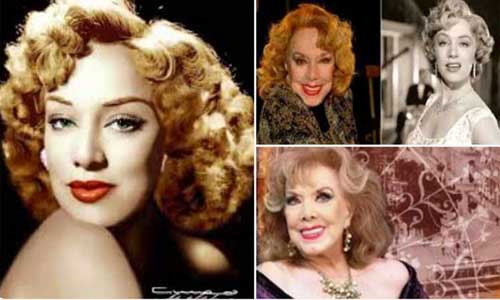 Cuba's Ministry of Culture reported on Wednesday that the remains of the outstanding dancer, singer and actress Rosita Fornés will rest in Cuba in compliance with her last will and testament.
Havana, Cuba.- The Ministry's press release unfolds that after fulfilling the requirements of rigor in the current COVID-19 times, Fornés' remains will be transferred from Miami, the United States to Cuba, where Cubans will be paid her the tribute she deserves in a ceremony, which authorities will give further details soon.
Likewise, the official press release highlights the enormous loss for the Cuban culture since Fornés captured her mastery in over forty operettas, operas, dramas, comedies, programs, films that found in her the excellence of her interpretation, in addition to her dances of the romances, the cuplé, tango and ballad.
The people recognized her as "The Cuban Vedette," and the Cuban State, the institutions and organizations awarded her with the highest distinctions, the Félix Varela Ana Betancourt and Lázaro Peña Orders, the Alejo Carpentier Medal, among others, specifies the press release.
Awarded with the national prizes for music, theater and television for her lifework, the artist bequeathed over 80 years to the culture of Cuba and the world.
"She will not physically return to the stage, but the generations that were able to enjoy her will mourn her loss. Cuban culture is saddened today," pointed out the press release.
From the time creators, entities and followers worldwide heard the news of Fornés' death this early morning on June 10, they offered their condolences to family and friends, and this diva's work has been recalled through social networks.
CUBAN RENOWNED VEDETTE ROSITA FORNÉS PASSES AWAY AT 97
Miami, United States.- Born in New York, but one hundred percent Cuban, Rosita Fornés, the renowned vedette and 2001 National Theater Award on her island, died at dawn today, at the age of 97.
Considered the queen of performing art on the island, Fornes held high distinctions and recognitions, in and outside the country, due to her masterful performance on stage, which will always keep her in the memory of the audience.
On its Facebook account, the Ministry of Culture extends its condolences to relatives, friends and followers, which she conquered around the world, while the artist's page announces she passed away at 4:07 local time.
"Our dear Rosita died after a long illness, surrounded by love and without suffering," the statement says.
Undoubtedly, with the death of Fornés, Cuba lost one of its most famous divas, versatile actress, singer and dancer, who also conquered the audience on stages in Mexico and Spain. (PL)