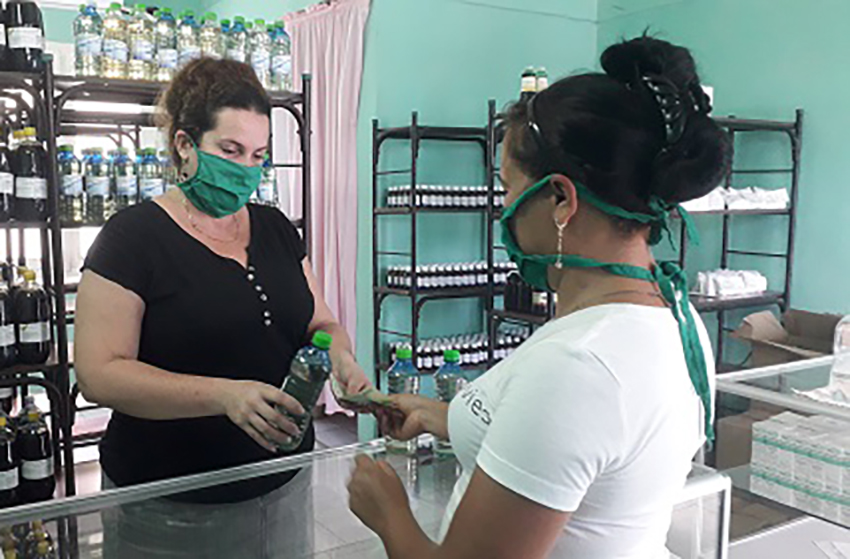 In the most recent meeting of the President of the Republic, Miguel Díaz-Canel Bermúdez, with scientists and experts who participate in the confrontation with the new coronavirus, Ph.D. Raúl Guinovart Díaz, dean of the Faculty of Mathematics and Computing of the University of Havana, reported that in the next few days our country will have an increase in infection rates, according to short-term mathematical models.
Las Tunas, Cuba.- After such predictions, the Company of Biopharmaceutical Laboratories (LABIOFAM) Las Tunas, increases sales of the disinfectant and antibacterial solution intended to sanitize hands, as a preventive action to reduce the spread of COVID-19.
With marked acceptance among the people of Las Tunas and nearby territories, since its creation in these laboratories, the lotion is part of the local efforts to reverse this growing trend, which may be possible if these practices are accompanied by personal responsibility and efficient implementation of the sanitary measures provided for this.
During these days, in the main points of sale of LABIOFAM, one percent hypochlorite will also be sold for hand disinfection, although direct sales to work centers and other spaces are also planned to avoid crowds and that the assortment reaches as many people as possible.
The hand sanitizer gel and lotion, and the hydroalcoholic solution to clean surfaces are several of the products that this biopharmaceutical company creates and markets as a result of science and the talent of its specialists to neutralize the SARS-CoV-2.