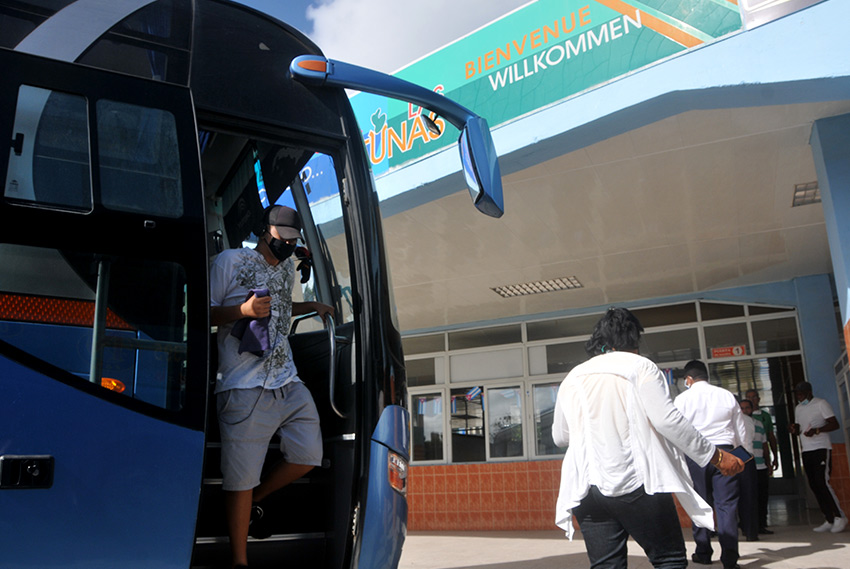 The National Bus Terminal of this eastern Cuban city reopened its doors on Wednesday. The event completes the return to the activity of interprovincial public transport of passengers, a process that started here on July 3 with the passage of the territory to the second phase of the post-COVID-19 recovery.
Las Tunas, Cuba.- The enclosure, which closed since last March, restarts its operations with clear signs of the hygiene and sanitary measures in force. Thus, the eastern half of its main hall is now exclusively reserved for departing travelers with reservations, while the western portion is destined for the transit passengers from the arriving buses. Disinfection barriers for hands and feet are placed.
Likewise, the Las Tunas-Holguín and Las Tunas-Camagüey routes returned to their usual itineraries, both with two daily departures; at the same time that the bus that covers the route Las Tunas-Santiago de Cuba does it with a single one that has a departure time at 8:30 am and return at 4:30 pm.
As reported by the Transport authorities in the territory, during this second phase, as in the third, the waiting lists will not be activated.
The vehicles will travel with full capacity and passengers will be able to transport the same amount of luggage as before: 20 kilograms and up to 30 more, according to the established rates, Oscar Alberto Carvajal Serrano, director of the Company of National Buses, has said.
Likewise, since July 3, the sales of National Bus reservations to the west, only to Cienfuegos, and east to Baracoa resumed; now from the ticket offices of the Viajero Agency that currently operate at the Train-Bus Terminal from Monday to Saturday, from 8:00 am to 12:00 pm and from 12:30 pm to 8:00 pm.
The official version of Viajando, an application for mobile phones that makes it possible to buy tickets to the capitals of provinces that are in phase 2, also entered service. In the first days - only in this territory - 10 thousand 64 tickets were sold, of which 540 went through the app.