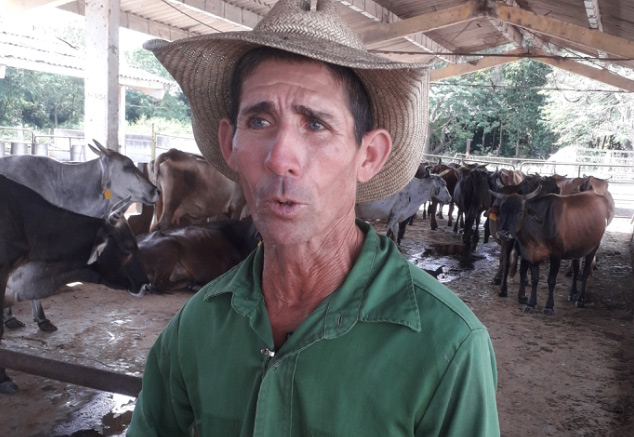 Noel Diéguez González has the scent of the field attached to his skin. He defines himself as an old rancher, one of those who know the vagaries of the land and understand the clean shine of the animals' gaze.
Las Tunas, Cuba.- He assures that his job "is not an easy business", because you have to know the "twists and turns" behind the paddocks, to lose your fear of the sun and accept that "you leave before dawn and return home with the night on his head."
He confesses that there are many springs already with boots on before dawn. Every day, he gets up at 2:00 in the morning and goes to the milking parlor for the first task; at around 3:00 am breakfast is allowed. That's when the strong coffee wakes up the trail of sleep that sometimes hides on his eyelids. And out of there again.
"Sometimes I arrive at noon, I take a bath, have lunch, and back to work again. The woman fights me from time to time, but now there is a lack of workforce in the cowshed and I have to watch the animals in the paddock all day. Sometimes, at 9:00 pm and I'm still behind the cows."
Noel already has his tricks. He assures that to obtain more milk, the cattle cannot go to sleep at 6:00 pm, it must stay in the paddock an hour and a half more; in this way, cows feed better and the results are seen, although of course that entails additional sacrifices.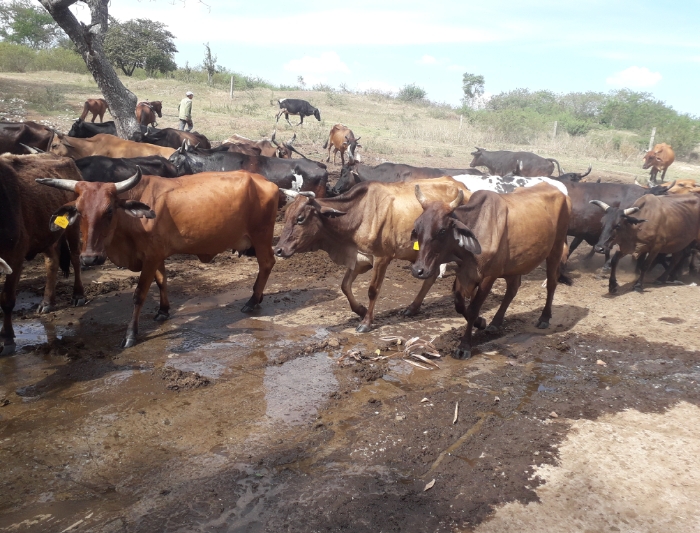 He is no ordinary worker. He has the responsibility of being the head of the Cowshed 16, which belongs to the Maniabo basic unit of agricultural production (UBPC), although the position does not save him a bit of physical effort. He is in charge of 196 animals and he proudly says that "his troop" is immersed in the routines of double milking.
He has had other responsibilities. He remembers that when he worked in the Cowshed 15, they collected 100,000 liters of milk for two years in a row. In his current unit, they do not reach these figures, but his goals are outlined towards those horizons.
"My cowshed is lucky. I have a large area with protein plants that provide food for the cattle and allow me to face the drought that always hits hard in these lands. Last year was very dry and now we are storing hay and preparing for what it can come."
Noel says that he has no losses in his cowshed. When he misses a cow he rides hard until he finds it and then he can rest. From his father comes all the wisdom of livestock, although experience has also brought its own.
"I have a clinical eye to know the cattle. In a week I learn the names of all the cows. They understand when they are called by their name. When I tell them, 'Margarita' comes that the calf comes here ... and when one is missing I know exactly what it is because I know them, I know their characteristics, which is lazier and surlier.
"I like everything about livestock. I take a day off duty and go to visit my mother, and around 4:00 in the afternoon I already feel that I am missing something. And there is also the responsibility; we must prevent theft and slaughter of livestock, especially now that life is so difficult."
Although Noel sacrifices himself to the limits, there are still elementary issues to guarantee in Cowshed 16 as in many others in the territory. Unfortunately, many cattle still die for lack of medicines; the drought is hitting the herds very hard and depressing them.
In his unit, he now has 29 milking cows and he predicts that this will be a good year, because there will be many births. Seeing him ride the animals reaffirms his words. He looks younger on the horse. He yells at "Moraima" that is behind, but Noel doesn't lose a foot or a footprint on the cow under the defiant sun; and yet he approaches with a bright face, kind to the bone, and says: "I am more than the boss I am a committed rancher."