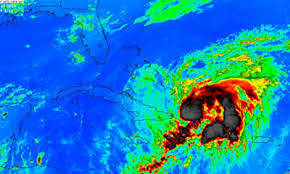 The northern municipalities of the province of Las Tunas - Jesús Menéndez, Puerto Padre and Manatí - present a favorable meteorological situation until this Friday afternoon, with the absence of rain and only fresh breezes associated with Hurricane Isaías.
Las Tunas, Cuba.- From Radio Chaparra and Libertad stations, journalists Luis Enrique Escobar and Rosa María Ramírez told the Cuban News Agency that everything is calm and the population is performing normally.
However, the local authorities are pending the coastal areas and the La Boca, La Llanita, and La Herradura beaches to proceed with the adoption of measures related to the eventual evacuation and protection of property.
In the case of Jesús Menéndez, when there is the meteorological event that threatens to hit or pass near the region, the Juan Sáez dam, the largest in the province with a filling capacity of 112 million cubic meters, is monitored.
The Chaparra River and this reservoir, as they are very close to the urban center, pose a threat to the population living in the lower area - 23rd Street and the El Canal community - but in the case of the "Juan Sáez," there is no evidence of danger due to possible precipitation, since it only accumulates 29 percent of its capacity.